Slimmest of All People!
I got a few things to tell you about.
I'm doing a cooking class on Saturday, June 18th, at Kitchen Kitchen in Indian Wells, CA, right outside of Palm Springs.
I'm preparing three dishes; a potato and leek soup (vichyssoise), my famous Hail Caesar salad with my homemade croutons, and chicken Marsala. Slim Marsala!
I'm also gonna sing a few songs–some Slim Stuff and some Rat Pack songs.
I posted the cooking class on the website yesterday. There were 12 spots available. Four are already taken.
Lonesome Slim [Kitchen Kitchen 2014]
If you're interested in the Elite Eight tickets that are left, you can check out all the details on the home page of the website:
I've done a few of these cooking classes/mini-concerts before. I've done them at Kitchen Kitchen, and I've done them at people's houses.
If you'd like to find out about doing one of these shindigs at your McMansion, send me an email. Have meatballs, will travel! They're a lot of fun. Seriously!
Are you ready for Father's Day?
Get the old screwball a Slim Man Cooks cookbook! We'll even ship it USPS Priority mail for free.
The cookbook has 52 delectable dishes, 52 funny stories, links to more than 40 cooking videos, and it comes with a free Slim Man CD–which Dad can use as a coaster for his beer!
The cookbook is also available on a USB thumb drive.
The thumb drive has a Hi-Res PDF of the whole cookbook–every gorgeous page, every fabulous photo, every delectable dish, and every silly story.
The thumb drive has 36 songs; 33 Slim Man songs, and 3 Sinatra songs sung by Mr. Man. Pops would dig that, right?
Shop for Pops right here:
ALL THE NEW NEWS FROM SLIM'S SHADY TRAILER PARK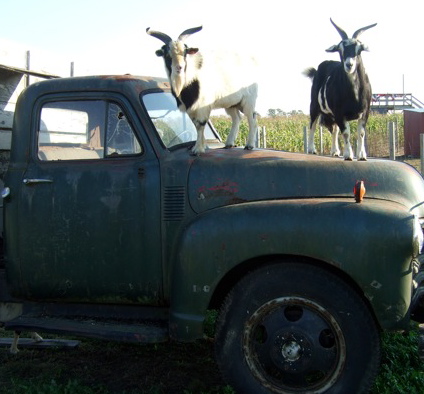 I've been on Facebook since it first came on the scene.
I'm not bragging, not that it's anything to brag about in the first place.
About 10 years ago, a friend-in-the-know told me about this new thing called Facebook, so I joined.
When I typed in the name, "Slim Man", it was already taken.
I thought maybe I should contact my law firm–Willby, Billing and Lotz–and sue for trademark violation, copyright infringement, defamation of what's left of my character…but then I figured, what the hell.
I let it go.
I typed in the name "Slim Manicotti". It wasn't taken.
Sometimes when I do interviews, and people ask me if "Slim Man" is my real name, I say, "No. My real name is Slim Manicotti."
It's meant to be a joke. Like Larry Linguine. Eddie Spaghetti. Petey Pizza.
So I got accepted on Facebook as Slim Manicotti.
One of my first friend requests was from a clown named "Joe the Clown". Seriously.
My first thought was…does Joe really need to add "the Clown" after his name?
I could tell from his 3-foot, multi-colored Afro wig, his huge red rubber nose, and his size 47 shoes that he was a clown.
It wasn't like I'd mistake him for Joe the Plumber.
But I felt flattered that Joe the Clown wanted me to be his friend, so I accepted his friend request.
Well, Joe the Clown must have been president of the American Clown Association, because, the next day I got dozens of friend requests on FaceBook from clowns. Seriously.
There I was, looking at FaceBook photos of clown after clown…the crazy wig, the red rubber nose, the white face, big red lips, huge shoes. I don't want to sound racist, but they all look alike!
Well, Ronald McDonald is easily identifiable. I heard they raised 35 million dollars last year for Ronald McDonald House.
How big a house does that clown need?
I have nothing against clowns. Some of my best friends are clowns–not circus clowns, just regular old every day clowns.
But this was weird. I felt bad, but I just ignored the Facebook friend requests. I didn't want people to think all my friends were clowns!
And then I started getting friend requests from non-clown people. How they found me as Slim Manicotti, I still don't know.
But my list of friends started growing.
I'm sure most of my FaceBook friends wouldn't bail me out of jail in the middle of the night, but it's nice keeping up with who's doing what.
But not as nice as keeping up with you People of Extraordinary Slimness and Friendship.
We're true blue amigos!
I'd bail you out of jail in the middle of the night, or at least bake you a lasagna with a hacksaw in it.
Or send you a new video that shows you how to cook Italian Sausage Bolognese while you're in the joint…
Stay hungry, my friends!
Who loves ya?